Oscar Romp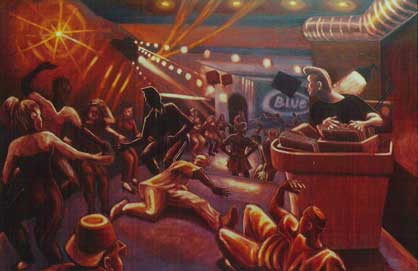 The Hi-Hat @ The Blue Note (Oil)
I can apply my ability in many directions. Ive never suffered from a lack of ideas, but rather, from having too many. I only have one life, and can only pursue a selection of ideas to successful fruition.
As a viewer and potential patron, you can take part in steering the creative activity of an open-minded talent. You may wish to commission a bespoke artwork in the form of a drawing, a painting or a mural?
You can also buy into my creative practice by purchasing an existing painting or drawing in the form of an existing artwork, or, a high quality reproduction. These prints are available at any size larger, smaller or true to the original,-according to the needs and the pocket of the purchaser.
They can be produced to order individually or as small Ltd editions, printed onto stretched canvas, or onto acid free, archival hand-made paper. Hand-drawn original etchings and lithographs are also available, using conservation grade materials. My customers and commissioning clients are the shareholders of my industry.
Figurative drawing has been at the core of all my work for a great many years, as it had been well before I was a student at the Royal College of Art. For me, drawing nurtures sensibility to visual tonality and relativity which can bring valuable insights to other areas of experience.
A love of drawing as a journey of discovery, rather than a linear expression, is at the heart of all the processes which I employ in my work. An enjoyment of tonal differences in surfaces is a major concern, and I am also interested in the use of line which can be used as a short-hand for describing the same tonal values and surface differences, but one that also possesses great expressive power in itself.
Drawing from observation, I feel, has a renewing and regenerating quality. I am not generally observant. The infinite nature of existence makes one complacent. However, as I begin to draw, even the most ordinary of things, I look afresh in order to understand. I rediscover how amazing nature is in all its forms; I also rediscover how the subject I am drawing looks and works, whether simple or complex in structure, and how it feels to behold. Even in the most "objective" drawing, one's mark-making is steered by subjective feelings and imagination. This special interplay interests me greatly.
Much of my work explores half-remembered or dreamt images which, for me, have significance. My own visual memory is not good enough to transfer them convincingly onto canvas. I need constantly to return to the physical and visual world around me for references, clues, and promptings. A pencil sketch may provoke a recall of thoughts and reflections, which sometimes eventually lead to an artwork.